Fox Custom Vinyl Backdrop
Regular price

Sale price

$59.00 USD

Unit price

per
Share
Delivery Time
1.Items In Stock
Ship out within 1-2 business days after received payment.
2.Items Out Of Stock
Ship out within 3-5 business days after received payment.
Transportation Time
After the product is made, it will be transported normally for about 8-12 days.(Except holidays)
If you are in a hurry, please contact the customer service mailbox to deal with it urgently.
support@foxbackdrop.com
Custom prints & sizes available
Please contact email:
support@foxbackdrop.com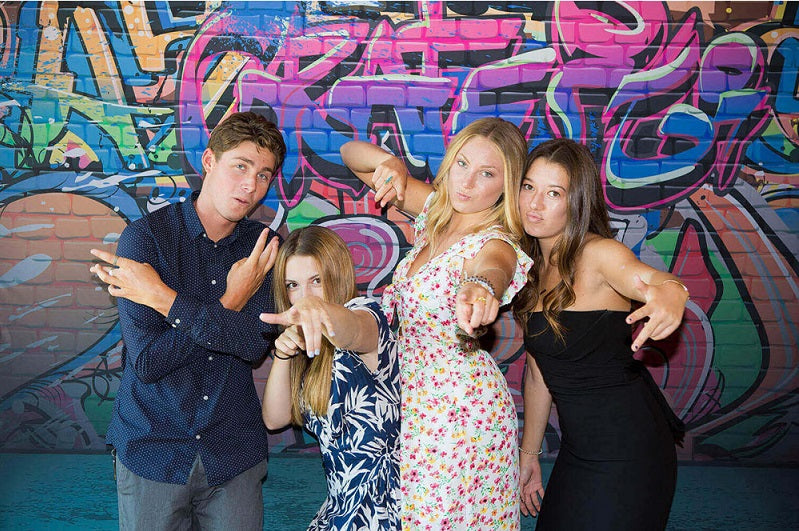 Looking for a low-cost approach to build a fully customized photographic graphic backdrop or flat lay? Create your own entirely original background utilizing your artwork ideas for great photographic graphics instead of settling for uninteresting stock photographs. Choose from a variety of set sizes, or send us your design, and we'll print it down for you.
Whether you are hosting or organizing a small party or a professional event or have a photo studio that produces enchanting photos. Our customized backdrop can serve the purpose of your photographic background whether it is big events like weddings, small events like birthdays, baby showers, baptisms, graduation, family photoshoot at the studio or homes such as couple photoshoots, newborn children or kids photoshoots, or big professional events like a trade show, conferences, product launch, and other business gatherings. Our perfect finish, non-glare, wrinkle-resistant, easy to maintain, portable, high tensile strength, 100% vinyl made, color-matched, the customized backdrop can prove to be a staple part of your theme décor and photography.
Custom Photography Backdrops
Our 100% Vinyl backdrops are extremely durable and tough, providing a wrinkle-free, glare-free photography background for your events. AtFoxbackdrop, our selection of Vinyl Backgrounds come with a non-reflective matte finish and are easily cleaned with a damp sponge.
The material used for customized Foxbackdrop is Standard 13 oz. Vinyl or 18oz Vinyl. We use the subline method of dying the vinyl sheet that gives the same texture and color consistency from edge to edge. Our specialized technique of backdrop manufacturing makes it a matte finish for greater visibility in bright light. At Foxbackdrop, we offer the most popular budget-friendly options for customized backdrops where you can choose backdrops as your required size, color, and material. Our easy-to-maintain, portable backdrops work well for both indoor and outdoor photo or video shoots. They can be easily rolled into a cylinder and can be cleaned using a wet sponge or soap solution if needed. They are super tearing resistant and have a tensile strength of 154.2 x 137lbs/in which makes them super durable. If maintained properly our non-fading customized backdrops can even last for 3-5 years in temperatures as low as -4°F.
Upload your personalized image or artwork and preferred size to get a free estimate from our expert for your customized backdrop at Foxbackdrop! Call us to know more!
We offer free shipping for orders ranging more than 200$. So what are you waiting for? Call now!

Professional-looking Custom Backdrops For Your Events
Are you an event planner wanting to expand your services? Make wedding backdrops a common component of the decor. They can be used for the ceremony as well as celebrations.
At parties and other large entertainment events, red carpet backgrounds are a must-have. Print the logos of your sponsors so that they all get the most exposure possible at every photo opportunity.
Here's how to design your backdrop for your next professional event:
1. Choose the most appropriate typeface for your logo.
Your company name should be written in a typeface that is clear, clean, and bold enough to be seen from a distance. Sans serif fonts like Proxima Nova, Avenir Next, Museo Sans, and TT Commons are recommended by Just Creative.
2. Use photos with a matte finish or combine hues.
All bespoke backgrounds are printed on vinyl with a smooth matte surface that reduces glare and makes them simple to see. Choose a color that will not fade when printed and contrast with your brand logo or image.
3. Arrange the logos in a neat and orderly fashion.
If you have many logos, make sure they each have their place so they don't compete with one another.
Your business backdrop may be printed on either 13 oz. or 18 oz. vinyl material, which is both sturdy and glare-free. For further information, call us for a customized professional-looking backdrop for your specialized events! We offer free shipping for orders higher than 200$.
Product information
Waterproof
Care and cleaning for these durable and waterproof vinyl backdrops is also as easy as a pie! Simply wipe with a damp cloth or mild dish soap as needed!
Material
1.Made of scratch-resistant and durable material.
2.The prints are light and compact, and roll up very small, so they are easy to transport and carry.
3.Waterproof vinyl material, wet, can be wiped with a wet towel, not washable, can be used again.
4.Waterproof, smooth and non-reflective.
Size
If you don't know what size to choose? We provide you with two photography methods: horizontal size and vertical size